A 40% keyboard with knob and lightbar, vial compatible.
Staggered Layout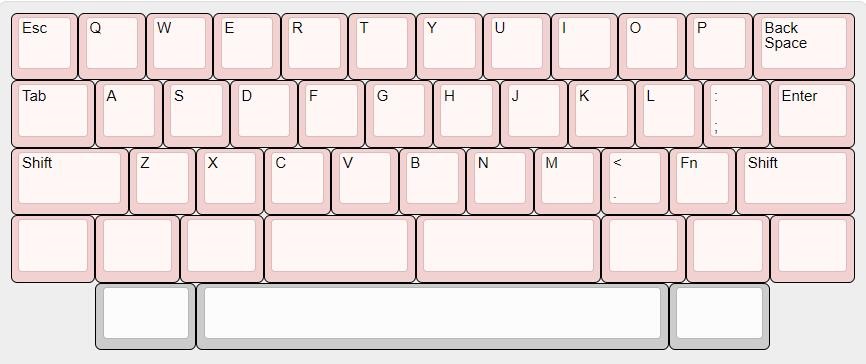 Ortho Solder Layout (Ortho Hotswap for 2x2u layout)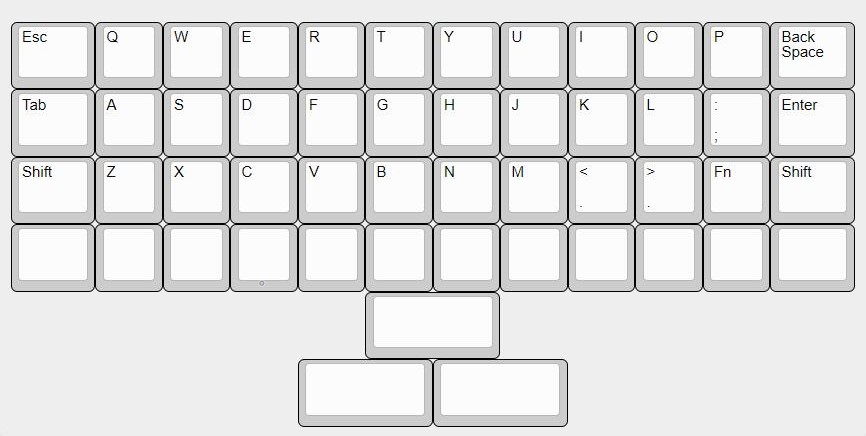 Cloud Groupbuy is from 8/20 to 9/5. Please fillout the order from here.
If MOQ (Regular and HHKB) hasn't reach 30, groupbuy will be canceled. If HHKB orders haven't reached 10, they will be confirmed if they are switched to regular layout or cancelled. There will be an announcement once the MOQ is reached during the groupbuy. If you place a HHKB order, please pay attention to the announcement on discord server. 
Invoicing between 9/6-9/9. Unpaid orders will be cancelled after 9/10.
Orders will be placed to the manufacturer  on 9/12. Progress will be annouced in announcement channel and apricot channel on discord server. 
Estimated time of shipping: Late Dec

If payment orders and reservation orders reach 80, the groupbuy will close in advance. 
There are two kinds of orders for cloud groupbuy,
Payment Order for return customers. Each return customer can place one Payment Order. Payment Order will be invoiced after the groupbuy closes. Groupbuy price is applied to Payment Orders. If you use different ID or PayPal email address other than before, or your order was before 2022/1/1 please DM Jacky to confirm the info.
Reservation Orders for all customers (including return customers). Reservation orders will not be invoiced after groupbuy closes. Reservation orders will be considered when making extras for groupbuy. When groupbuy orders are shipped and the extras are opened, reservation orders have the priority to get the extras available. But there is no guarantee that those orders will have exact stocks or options. Extra kit price is applied to reservation orders (for all customers).
This groupbuy is only available in LAZYDESIGNERS discord server. All informations about this groupbuy will be announced in the discrod server. Please make sure you are reachable by discord message.
Orders can not be changed or cancelled after payment is done.

Please make sure you have taken a careful consideration before you place an order.

The kit has one ec11 rotary encoder in the kit. It won't be soldered on PCB by default. If you have trouble to solder, you can choose 'Rotary encoder soldered for default PCB' option. But all extra PCBs won't have encoder soldered.
Estimated time of shipping is not an actual time for shipping. The groupbuy could be delayed. There is not guarantee that the groupbuy order will be shipped at that time. Please remember to check the progress on discord server.
In order to keep the package light weight and compact, all kits will be pre-assembled and packed in one box.
During the manufacuring of keyboards, some small flaws of the products are inevitable. Please reconsider of placing orders if you are very sensitive to that.
The shipping address is the one on PayPal. All orders will be shipped to those addresses by default. Tracking number will be provide after the package is sent via discord message.
The kit includes
Tophousing and bottom
Plate
PVD stainless steel knob
EC11 Rotary Encoder with detent (15mm)
USB Daughterboard + backup USB Daughterboard 
PCB
Poron plate foam
Poron bottom foam
Rubber feet (The bottom has no foot position)
The plate foam is made for a basic layout. To be compatible with some layouts, you have to cut the foam yourself.
 Only E colors are available
E-Pink
E-White
E-Beige
E-Black
             PVD stainless steel knob color options
Staggered Hotswap (Split spacebar)
Staggered Solder (Long bar support)
Ortho Solder
Ortho Hotswap with 2x2u spacebar
1.6mm thickness white PCB, and support for screw-in(PCB) stabilizers. Hotswap PCBs use pink sockets.
Aluminum Hotswap Plate (Anodized in Black)
PC Hotswap Plate
Aluminum Solder Plate (Anodized in Black)
PC Solder Plate
Aluminum Solder Plater for Ortho (Anodized in Black)
PC Solder Plate for Ortho
Aluminum Ortho Hotswap Plate
PC Ortho Hotswap Plate
Groupbuy price for return customers is 
With solder PCB                     220 USD
With Hotswap PCB                 230 USD
Extra kit Price will be 
With solder PCB                     250 USD
With Hotswap PCB                 260 USD
Other options
Extra Plate                               10 USD
Extra Solder PCB                     20 USD
Extra Hotswap PCB                 30 USD 
Extra Knob                               20 USD
Shipping rate to US, Canada, UK, Australia and some of EU countries is 45USD. For other coutries, shipping rate will be confirmed when invoicing.
For example, total price of one solder kit to those countries will be 220+45=265 USD.
All kits sold will be shipped by SF Express. You can check the availibity of shipping and actual shipping rate here: http://www.sf-express.com/cn/en/dynamic_function/price/ .  The origin is China/Guangdong/Shenzhen/Nanshan.
The shipping rate to US, Canada, UK, Autralia and some countries in EU are within the same range, they will be charged a standard rate of 45USD for one kit. 

If extra items are added, they probably will raise the weight or dimension of the package. The shipping rate could change. The shipping rate will be confirmed when invocing.

For other coutries, shipping rate will be different. For example, shipping rate to most of Asian countries will be lower.

You can DM Jacky to check shipping rate and also the availability of shipping.

The default shipping address is the one in PayPal. All orders will be shipped to the addresses showed in PayPal. If you want to use address other than that, please DM Jacky.