Apricot is a qaz keyboard inspired by tominabox1's qaz keyboard designs.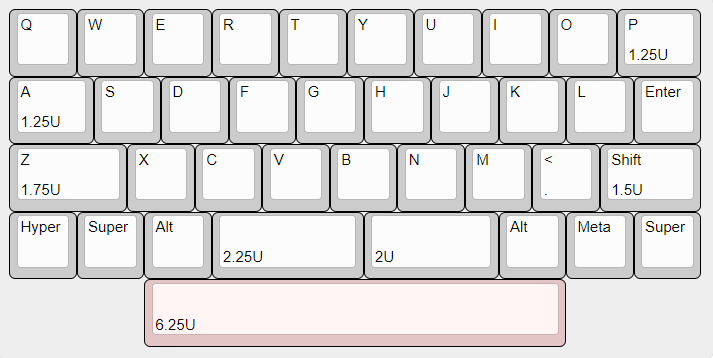 The apricots sold in this page are extras of apricot round 2 groupbuy. 
Some of extra are b stocks with minor flaws and will be specified when confirming orders, and offered with 20USD off discounts. 

During the manufacuring of keyboards, some small flaws of the products are inevitable. Some flawed stocks will be sold as b stocks later, but normal condition stocks may still have very small flaws. 

If you are very sensitive to flaws Please reconsider of placing orders.

FCFS. I could be a little busy when the extras are just opened. But don't worry, I think the extras won't be sold very soon. So just have a little patience, I will reply your message when I come to your order.
PM Jacky on discord. Please include your detail options, your country and zip code, your paypal email address and phone number for delivery. 
The availability will be confirmed later. No guarantee that it's still available during the inqury (due to the time difference, the inqury could be very long). If the inqury is confirmed, it means the extra has been reserved.
If you checked the discord channel, you might have noticed that I just finished moving and still are working on getting things sorted. Although not all the color options have A stocks, I haven't got time to list all the b stocks and take pictures of them. So if you are okay with b stocks, you can specify when you pm me. It will be confirmed sooner.
For aluminum case
E-Pink Regular/HHKB
E-Yellow Regular/HHKB
E-White Regular/WKL/HHKB
Anodized Purple WKL/HHKB
For PC case
Sandblasted clear PC Regular/HHKB
Please check apricot discord channel for color sample.
Hotswap 
Solder (Long bar compatible)
Round 2 use 1.6mm thickness white PCB, and support for screw-in(PCB) stabilizers. Hotswap PCBs still use pink sockets.
Aluminum Hotswap Plate (Anodized in Black)
PC Hotswap Plate 
Aluminum Solder Plate (Anodized in Black)
PC Solder Plate
Mounting studs for Hotswap PCB and plate are cancelled in Round 2.  
3.5mm thickness PORON foam between plate and PCB. (Black)
Polyurethane Foam between PCB and bottom.
Screws and rubber feet.
Accessories will be included in the kit by default. 
The plate foam is using split bar layout. If you want to use big bar, you have to cut the foam yourself.
Extra's price:
With solder PCB                     225 USD
With Hotswap vesion PCB      235 USD
(Groupbuy price was started at 215USD)
Other options
Extra PC Top                            85 USD
Extra Plate                               12 USD
Extra Solder PCB                     20 USD
Extra Hotswap PCB                 30 USD 
Lightbar is not included in Extra PC Top option.
Shipping rate to US, Canada, UK, Australia and some of EU countries is 38USD of 1KG. For other coutries, shipping rate will be confirmed when invoicing.
For example, total price of one solder kit to those countries will be 215+38=253 USD.
All kits sold will be shipped by SF Express. You can check the availibity of shipping and actual shipping rate here: http://www.sf-express.com/cn/en/dynamic_function/price/ .  The origin is China/Guangdong/Shenzhen/Nanshan.
The shipping rate to US, Canada, UK, Autralia and some countries in EU are within the same range, they will be charged a standard rate of 38USD for one kit. 
If multiple kits are included in one order, shipping rate will be confirmed indicidually when invocing.
For other coutries, shipping rate will be different. For example, shipping rate to most of Asian countries will be lower.

You can PM Jacky to check shipping rate and also the availability of shipping.

The package has slightly exceeded 1KG already for aluminum case. If other items are added into the package, it probably will raise the weight to 1.5KG. Shipping rate will be adjusted to 45USD for 1.5KG.

The default shipping address is the one on PayPal. All orders will be shipped to those addresses.