apricot is a qaz keyboard.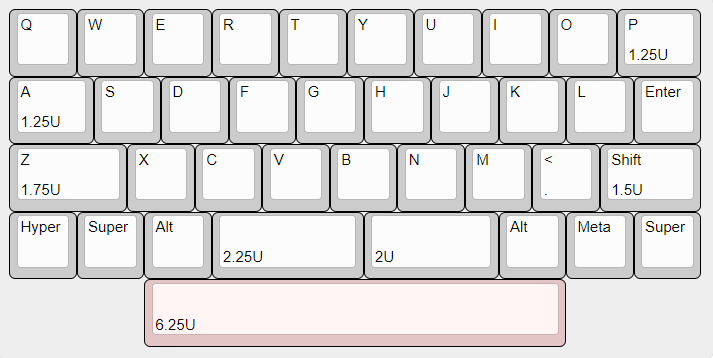 DM Jacky on discord for extra ordering. Extra sale may be chaos due to massive requiring. So please be patient if the requiring could not get reply in time. Thanks for your understanding.
The info needed for purchase is country and zip code, payapl account addess, and phone number for shipping.
Some PCB options and plate options may run out after extra sale starts. I will update the stock as timely as possibe.
The extras still need a week to get ready to ship. Sorry for the slow order processing.
There are some extras made by the manufacturer to cover for QA.
And one special offer has pink WKL top and green bottom with 25USD off discount. Will be available on special offer channel later.
All b stock orders will be confired with the actual pictures of flaws when ordering through discord message. 
Hotswap (Pink PCB with Pink Kailh Socket, without long bar support)
Solder (Pink PCB)
All PCBs have 1.6mm thickness, and support for screw-in(PCB) stabilizers.
Aluminum Hotswap Plate (Anodized in Black) .
PC Hotswap Plate 
Aluminum Solder Plate (Anodized in Black)
PC Solder Plate
EVA Foam between plate and PCB. (Black)
EVA Foam between PCB and bottom (Black)
Screws and rubber feet.
Accessories will be included in the kit by default. EVA foam for plate comes with the plate option.
The extra kit price is 10USD more than groupbuy price.
With solder PCB                     220 USD
With Hotswap vesion PCB      230 USD
All B stocks have 15USD off discount.
Other options
Extra Plate                              12 USD
Extra Solder PCB                     20 USD
Extra Hotswap PCB                 30 USD 
Shipping rate to US, UK, Australia and some of EU countries is 38USD of 1KG. For other coutries, shipping rate will be confirmed when invoicing.
For example, total price of one solder kit to some countries will be 220+38=248USD.
All kits sold will be shipped by SF Express. You can check the availibity of shipping and actual shipping rate here: http://www.sf-express.com/cn/en/dynamic_function/price/ . The origin is China/Guangdong/Shenzhen/Nanshan.
The shipping rate to US, UK, Autralia and some countries in EU are within the same range, they will be charged a standard rate of 38USD for one kit.
If multiple kits are included in one order, shipping rate will be confirmed indicidually when invocing.
For other coutries, shipping rate will be different. For example, shipping rate to most of Asian countries will be lower. You can PM Jacky to check shipping rate.

The package has slightly exceeded 1KG already. If other items are added into the package, it probably will raise the weight to 1.5KG. Shipping rate will be adjusted to 45USD for 1.5KG.

The default shipping address is the one on PayPal. All orders will be shipped to those addresses.
In order to keep the package light weight and compact, all kits will be pre-assembled and packed in one box. 

During the manufacuring of keyboards, some small flaws of the products are inevitable. Please reconsider of placing orders if you are very sensitive to that.

The shipping address is the one on PayPal. All orders will be shipped to those addresses by default. 

Tracking number will be provide after the package is sent.

There could be a delay of actual shipping date due to unexpected circumstance. Please remember to check the progress on discord server.